Hui Ye Wins the China Business Law Awards of 2019
发布时间:2019-03-13
On March 12, 2019, the well-known international legal journal China Business Law Journal issued the list of China Business Law Awards of 2019. With the strong development and professional performance in 2018, Hui Ye law firm was announced as the winner for "The Law Firm with High Attentions" and for the practice area of the "Employment and Labor Laws".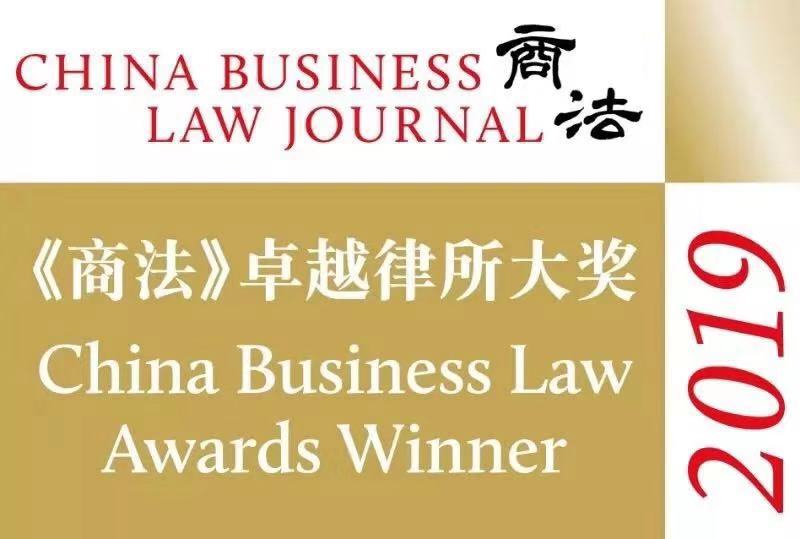 The results of China Business Law Awards are based on nominations and comments received mostly from China-focused corporate counsel, senior managers and legal professionals around the world. China Business Law Journal conducted surveys to the great deals, cases or other notable achievements of each firms over the past year. The purpose of this evaluation is to reflect the characteristics and expertise of different law firms in the market and to help the readers of Chinese corporate counsels select their most suitable outside legal counsel. It is the latest big award Hui Ye has won after ALB Top 50 Asian Law Firms Awards.
In 2018, the national layout of Hui Ye has been developed by leaps and bounds, we has set up four offices in Wuhan, Xi'an, Hefei and Qingdao. In 2019, four new offices in Hangzhou, Changsha, Suzhou and Chongqing have also been approved. Meanwhile, other new offices in Shenzhen, Zhejiang free trade area and Wuxi will also be established soon. By the middle of 2019, it is expected that Hui Ye will have 20 offices in the whole country.
At the same time, the globalization development strategy of Hui Ye has been further implemented. In 2018, Hui Ye has signed the strategic cooperation agreement with Kellerhals Carrard law firm from Smithland and the new office in Los Angeles is also under preparation. In addition, Hui Ye has set up the strategic cooperation relationship with various law firms of different areas such as Japan, Czech and Vietnam, etc. For the future, Hui Ye will continue to work with the legal service institutions in Thailand, Australia and elsewhere and to develop and grow stronger across the whole world.
In 2018, Hui Ye has introduced more than 30 partners and up to now, we have already owned more than 500 practicing lawyers and professionals and counsels for other fields, which mean that we are ready to respond to the different needs of law and business from global clients at any time. The awarded field "Employment and Labor Laws" is one of Hui Ye's traditional particular strengths. In the non-competition case between Tencent and its former employees, the lawyer from Hui Ye has won the case for Tencent and made Tencent being compensated RMB 19.4 million yuan, this case has been listed as the First White Paper Case of Non-Competition Dispute Trial of 2018 by Shanghai No. 1 intermediate people's court.
After 20 years of development, Hui Ye has owned the industry- leading advantage in the fields of corporate governance and compliance, M&A, reorganization, labor and human resources, intellectual property, international trade and investment, anti-monopoly and anti-improper competition, government legal affairs, bankruptcy and liquidation, maritime affairs, financial leasing and dispute resolution. Moreover, Hui Ye also has gained rich project experience and excellent insight in various industries such as real estate and construction projects, Internet, entertainment, energy, environmental protection, medical and health, luxury goods and commercial retail, and provided efficient and quality legal services for hundreds of multinational companies and domestic large and medium-sized enterprises, government departments and social elites in long-term. Hui Ye will always adhere to the aim of "Good to Great", keeping the faith and mission of being practicing lawyer, constantly strengthening the construction of innovation developing pattern and standardize the management of the law firm so as to gradually become a high-quality, cross-regional and cross-field law firm with global influence.
返回列表